Meet Kate Rossetto, Owner of Lady Kate's Garden
Neil Beyer, Realtor® with ELEPHAS Real Estate Group brokered by eXp Realty interviews Kate Rossetto, Owner of Lady Kate's Garden in Billings, Montana. Check out this interview to learn more about Kate and her amazing garden where she grows local produce for the Billings community and neighborhood restaurants.
If you have not yet visited Kate's garden in the Heights you are missing out on some of the freshest produce available in Billings and a conversation with a wonderful person.
Innovative chefs in downtown Billings serve dishes made with local ingredients
By Anna Paige • Oct 4, 2018
In an effort to highlight innovative chefs and the expanding list of local restaurants, the Downtown Billings Alliance has launched Restaurant Week, beginning Friday.
Restaurants taking part will create unique menu items that aren't normally available.
"We have award-winning chefs and restaurants willing to take risks and change their menu up," said Lindsay Richardson, events director for Downtown Billings Alliance.
Twelve restaurants are participating, and the DBA hopes this inaugural event will grow to become one of the signature events of the year.
Yellowstone Public Radio | Flavors: Winter Hope, The Summer Harvest
By STELLA FONG • FEB 15, 2017
Vine-ripened tomatoes. Sugary-sweet corn. Crunchy-spicy radishes. There's no better time than the present, while winter lurks, to plan your summer harvest. We need hope, visions of deliciousness, especially after living through one of the heaviest Montana snowfalls in 30 years. A beautiful and plentiful bounty requires thoughtful planning and preparation. Kate Rosetto, of Kate's Garden, and Claire Johnson, of the Gainan's Garden Center, provide hints for a successful harvest from sketching out a plan for the garden plot to rotating crops, to growing enough for preserving.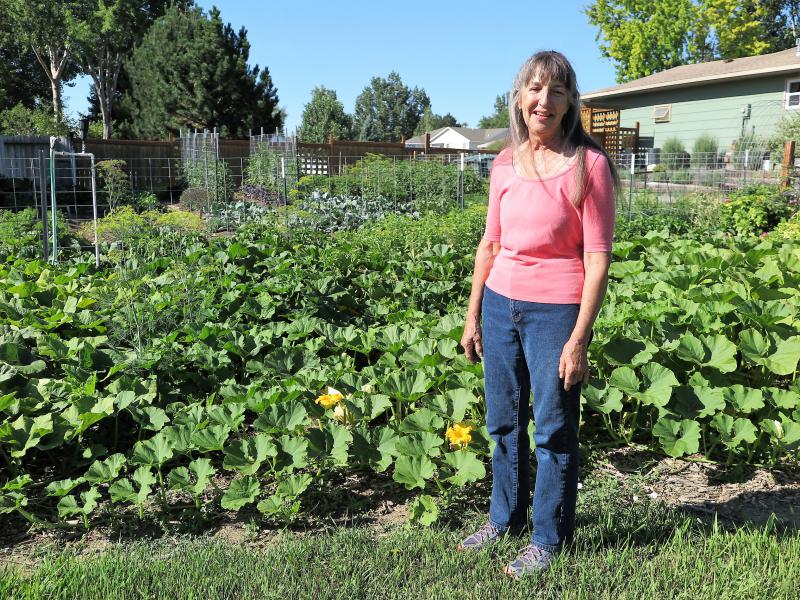 Kate Rosetto works 1 1/3 acres she calls Kate's Garden in the Billings Heights near Lake Elmo. In the 1960's, she grew herbs and flowers for her essential oils business, Scents of Balance. These days she grows vegetables for her CSA (Community Sourced Agriculture) and specialty items for local chefs. For sixteen weeks in the summer from June to October Rosetto grows produce for her clients. For more information, visit
Kate's Garden
or
Scents of Balance
. Work begins in the fall for Rosetto when she clears her garden. An unclean plot "provides the perfect environment for disease and insects," according to Rosetto. If one is unable to get the task in the fall, the work should be completed in the spring. The next key task is to make sure the soil has the right nutrients. Rosetto takes a shovel-full of her dirt to B and C Ag Consulting for analysis. In December, she reviews seed catalogs, choosing seeds that require less than 100 days to maturity in USDA Hardiness Zone 4. She orders heirloom seeds because she believes they preserve the heritage of the vegetables. Heirloom produce has flavors that are truer to their varietals, as less genetic mixing has occurred. Rosetto finds it beneficial to sketch the garden layout.  Importantly, crops need to be rotated.  "Each crop takes different nutrients out of the soil." Year after year, she suggests not growing the same crop in the same space. Crop rotation also provides for variety, and, "You don't get bored with the layout of the garden."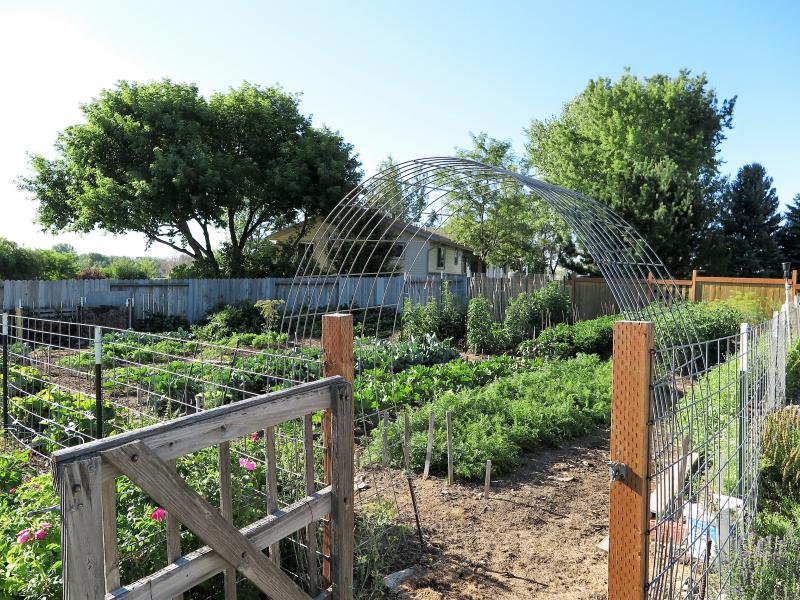 Rosetto has to plan for successive plantings to stock her CSA offerings with ample product at optimal ripeness. Eating with the seasons allows Mother Nature to provide nutrients in a natural way, supplying the right benefits at the right time of the year when we need them. For her CSA, Rosetto tries to have "normal vegetables," those varietals that are familiar. She wants to provide her customers types of vegetables that they are comfortable cooking. With each CSA she provides recipes. Once a week customers arrive at her farm at a designated time to pick up their half dozen varieties of produce spiced up with herbs. During the two hours of pickup, customers get to see where the food comes from, and meet those who share in the bounty. Kate's Garden nourishes not only a relationship with food, but with each other.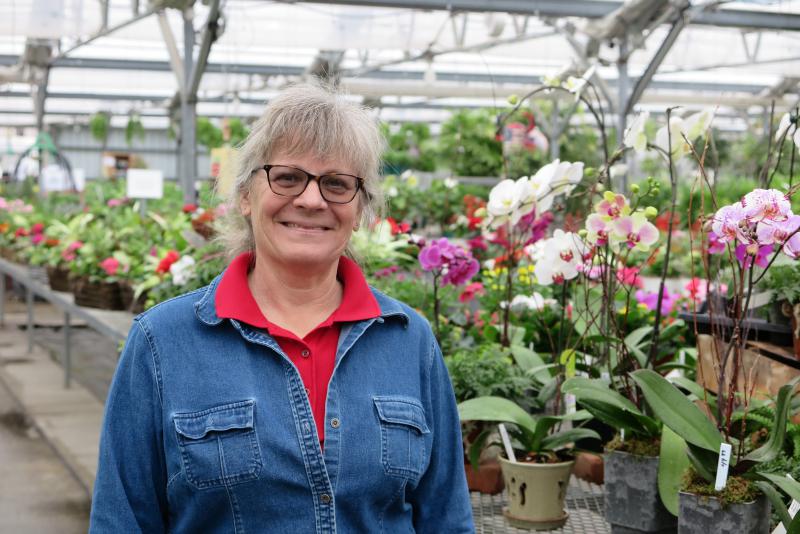 Claire Johnson, one of the managers at the Gainan's Garden Center, has enthusiastically advised customers on how to grow flowers and vegetables for nearly 30 years. Even after a full day of working at the greenhouse, Johnson cultivates a large summer garden. She starts much of her crop inside the house or in the greenhouse before she sets them in her garden. She grows enough for immediate consumption eating and produces enough to preserve and store in her root cellar, an abandoned well where temperatures stay in the mid-forties throughout the year.  Johnson also finds her produce valuable for bartering and gifting. She laments humorously that she is currently short on onions because she had given them all away. Johnson also emphasizes the importance of planning out the garden as well as rotating crops. It is important to plan a fall garden since squash and pumpkins ripen when the weather cools. These items can be stored in a cool place for eating throughout the winter. Johnson's secret to pumpkin pie? She says the best "pumpkin" pie is made with squash. In this winter of cold and heavy snowfall, warm thoughts comes from planning our summer garden. We plant seeds of anticipation by perusing catalogs for our summer bounty and mapping out how we rotate the garden to preserve the soil nutrients as well as arranging the visual landscape. Spring and summer will come before we know it.
City Streets County Roads - Farm to Table
"The Dirt on Urban Farming" by Brenda Maas in the July 2014 issue of the Billings Gazette.
Billings aromatherapist finds trade to be preventive
By SUZANNE KYDLAND ADY
Of the Gazette Staff
The nose of a dog can be, literally, a million times more sensitive than a human's. Sharks, also known for their smelling abilities, use their nose power to locate prey – and survive.
Although people generally don't have to rely on their sense of smell for survival, Billing's aromatherapist Kate Rossetto says a person's sniffer is the still the most primal of the five senses.
"If you think back to caveman days, our sense of smell was highly developed," she said. "We used it to find food and to stay away from danger."
In the past 40 years or so, Rossetto has finely tuned her sense of smell for a different reason: For well-being and balance in her own life and others.
Rossetto's story begins in the '60s, when she realized her attachment to nature and gardening.
"I love going outside and getting my feet in the dirt," she said. "More people need to take off their shoes and just walk in the grass, or sit under a lilac bush. The body will respond."
Back then, Rossetto also knew plants had been used for centuries as foods and medicines. Fascinated, she started growing her own herbs and ordering essential oils through a catalog. Not long after, she began creating her own oils.
"As I got better at it, I bought my own plants – they've taught me a lot," she said. "No one can teach you how to work with a plant; you've got to experience it yourself."
A native of Red Lodge, Rossetto moved to Hawaii after her children were grown. She refers to the state as a "juicy, feminine place."
"I was surrounded by exotic florals," she said. "Hawaii just opened up another creative place within me.
"

Although Rossetto developed much of her practice on her own among the Birds of Paradise and yellow hibiscus, she also took aromatherapy classes in Los Angeles and is now a certified aromatherapist.
Rossetto said that while learning her craft is ongoing, many aspects of aromatherapy can't be obtained from a book or in a classroom.
"Aromatherapy is such a misused word," she explained. "People think it's just a good smell. But it's an ancient modality of healing. It's the use of aromas from plants for healing – sometimes physical issues."
According to the holistic online Web site, aromatherapy is used for everything from pain relief to skin care. It's used to alleviate tension and invigorate the body. Essential oils can affect the mood, alleviate fatigue, reduce anxiety and promote relaxation. When essential oils such as lemon, lavender and peppermint are inhaled, they work on the brain and nervous system through stimulation of the olfactory nerves.
And aromatherapy is becoming more popular in the world of alternative therapy. In Japan, engineers have incorporated aroma systems into entire buildings. Scents of lavender are pumped into certain areas to calm down waiting customers, while lemon and eucalyptus are used to keep staff members more alert.
The mountains eventually called Rossetto back to Montana. Upon her return several years ago, she started her own aromatherapy business, Scents of Balance. Rossetto is quick to point out that "nature identicals" or man-made smells put into oils and candles, often don't have the same effect.
"It's very simple, really," she said. "It would be like the body eating plastic. You always want to use organic essential oils. The highest quality usually has the best effect."
Rossetto suggests scents such as rosemary or peppermint to stimulate the brain – maybe during a session of homework or if someone is feeling sluggish. Lavender has an opposite calming effect. They are also less expensive than some of the more luxurious and often imported oils, such as rose and jasmine.
Along with her aromatherapy consultations, Rossetto practices Reiki, a Japanese technique for stress reduction and relaxation that promotes healing. She also takes her talents to Perfect Balance Yoga and Massage, and teaches sporadically through Night Owls and the Montana State University-Billings Outreach program. Rossetto has even been known to offer gardening classes from her own home during the summer. And she hopes to work with kids in the future.
"I'd love to," she said. "Kids know about computers, but so many of them don't know about the Earth."
Many of Rossetto's clients discover her simply through word of mouth.
"I think we all come with these gifts, and things we're good at," she said. "I'm creative with plants, and I'm a resource for people."
"I feel responsible for teaching people about nature. We're so over-stimulated with everything else in our world. I use plants to bring my life into balance, and that's what I teach others."



Copyright © The Billings Gazette, a division of Lee Enterprises